Adobe Flash Player Update Fix for Mac OS X
The Adobe Flash Player mini updater on OSX does not operate properly to grab the full package files from Adobe servers due to a bug in Adobe's mini app updater.
The solution for Mac OS X is to add 127.0.0.1 to the list of bypass addresses in the proxy sub-tab.
1. Open System Preferences.
2. Click on Network.
3. Unlock the Settings padlock at lower left corner of the window (if necessary).
4. Click on your Network Interface in the left-hand list, such as Ethernet.
5. Click Advanced.
6. Select the Proxies sub-tab.
7. In the "Bypass proxy settings for these Hosts & Domains" box, enter the following value: 127.0.0.1
8. Do not enter any additional text in the "Bypass proxy settings for these Hosts & Domains" box or uncheck any of your configured Proxy Protocols.
9. Click OK to close the sub-tab.
10. Click Apply to save your changes for this Network Interface.
11. Once the above steps are complete, you should be able to use the Adobe Flash Player Installer to obtain the latest version, as desired.
12. You will need to Repeat steps 1-10 for each OSX Location, such as CampusName-Wired (to adjust settings for your Ethernet Network Interface) and/or CampusName-Wireless (to adjust settings for your Wi-Fi Network Interface).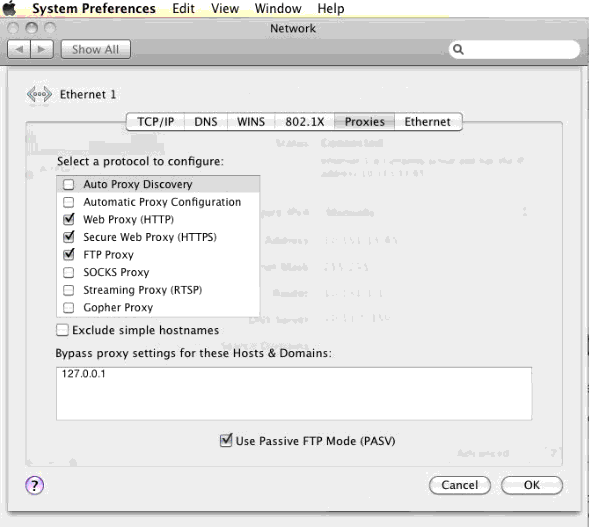 Note: The silent auto-updater present in Adobe Flash Player 13.0 and higher operates every 30 days, however the 127.0.0.1 fix as above is required for manual updates.
~~~~~~~~~~~~~~~~~~~~~~~~~~~~~~~~~~~~~~~~~~~~~~~~~
Need help from the Tech Group? Use the Online
MCVSD "Information Technology Help Request" form
http://www.mcvsd.org/techhelp/
~~~~~~~~~~~~~~~~~~~~~~~~~~~~~~~~~~~~~~~~~~~~~~~~~