PowerSchool TechNote:
Secretary Procedure: Entering Daily Attendance from Teacher's Meeting Attendance Records
---
Note: the following instructions apply only to schools with teachers using the PowerTeacher Portal to record electronic attendance.
To enter daily attendance codes for students:
Select System Reports

Select the Absentee report

Set the Attendance Mode to Meeting

Select All Students (or a selected group)

Select ALL CODES

Leave all other options at default

Click Submit

After clicking Submit, the Report Queue appears. When the report is complete, click View to review the Absentee Report results

The resulting report will list all students with a Teacher's attendance flag for today's Meeting(s), such as A for Absent, T for Tardy.

Click Functions

Click on the hyperlinked number next to the Current student selection

A list of students appears, you can use this list to enter the Daily attendance code (such as UE, EX, or other code, as necessary) manually for the current day.
Example Absentee Report setup screen shown: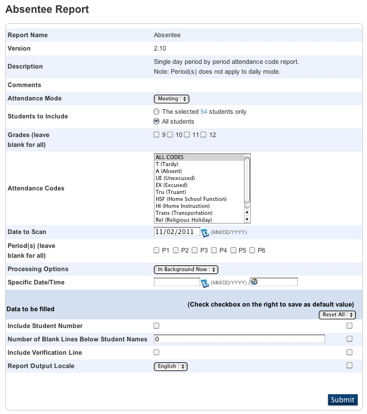 If there are any questions, please contact the Tech Group.
~~~~~~~~~~~~~~~~~~~~~~~~~~~~~~~~~~~~~~~~~~~~~~~~~
Need help from the Tech Group? Use the Online
MCVSD "Information Technology Help Request" form
https://tg.mcvsd.org/techhelp/
~~~~~~~~~~~~~~~~~~~~~~~~~~~~~~~~~~~~~~~~~~~~~~~~~