PowerSchool TechNote:
Generating Attendance Letters & Absence Summary Reports (Shared Time Campuses)
---
Shared Time Programs: Attendance letter reports/templates are now available in PowerSchool.
If you send letters home at 5-10-15-20 day intervals, use the following reports:
ST_Daily_Attend_Letter_5_Req_Ltrhead
ST_Daily_Attend_Letter_10_L1_Req_Ltrhead
ST_Daily_Attend_Letter_10_L2_Req_Ltrhead
ST_Daily_Attend_Letter_20_Violation_Req_Ltrhead
To report on absences for days 0-9, use the 5 day letter.
To report on the 10th-19th day of absence in Level 1 or Level 2, use the 10_L1 10 day letter or 10_L2 10 day letter.
To report on the 20th+ day of absence, use the 20 day violation letter.
All of these reports require use of pre-printed school letterhead to provide your logo and specific letterhead layout.
Select tray 3, or another tray containing your letterhead paper before printing out a hard-copy of these letters.
To find students that need a letter sent home:

Load the Attendance Frequency Report using the link here (this link will open in a new browser Tab or new browser Window, be sure to return here and continue through the directions below).
Use the following report parameters:
Attendance Code(s) Select All Absent Codes

Start Date (verify correct start date of attendance records to search, adjust if necessary)

End Date (verify correct end date of attendance records to search, adjust if necessary)

Min Frequency (enter 5, 10, 15 or another value to locate students with Absent Codes that are less than or equal to that value)

Grade (leave as All Grades or select a specific Grade Level)

Attendance Mode (leave at Daily)

Then Click Submit.
Example Attendance Frequency Report screen shown here: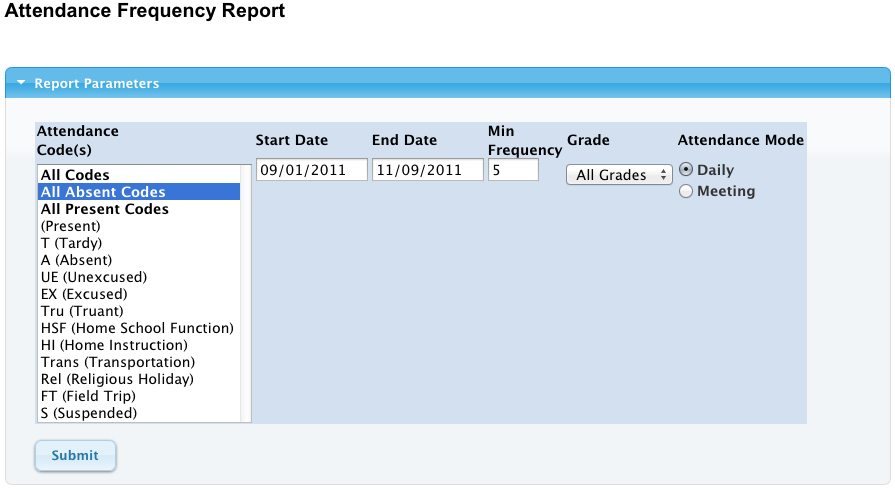 After clicking Submit, the results will display student name, grade level and Att Records count, indicating students with Absent Codes of UE and EX combined. At this point, you can either use this report as reference, or head back to the main PowerSchool page, and select the students found using Special Functions--->Group Functions--->Select Students by Hand.
Select the appropriate report, as above. For example, to print a letter for a student with equal to or greater than five days of absence, you would use the ST_Daily_Attend_Letter_5_Req_Ltrhead report. Your letter(s) will be created as PDF files, which can be viewed and printed in hard-copy if desired.



Please keep a note of which student letters have been sent home, as PowerSchool does not have a "letter sent" checkbox at this time.
If you would like to print mailing labels, select Start Page--->Reports--->ReportWorks to print Avery labels for these selected students.
For an individual attendance report, we have report named "Individual_Student_Absence_Summary" that pulls together a listing of all individual student absences, with the code assigned. This may be a useful page to send home with the letters above, or to use for reference in addition to the student's Quick Lookup screen.
This attendance info is also available in the student's Quick Lookup screen at bottom, but only shows a two-week summary chart.

If there are any questions, please contact the Tech Group.
~~~~~~~~~~~~~~~~~~~~~~~~~~~~~~~~~~~~~~~~~~~~~~~~~
Need help from the Tech Group? Use the Online
MCVSD "Information Technology Help Request" form
https://tg.mcvsd.org/techhelp/
~~~~~~~~~~~~~~~~~~~~~~~~~~~~~~~~~~~~~~~~~~~~~~~~~